Websites for finding images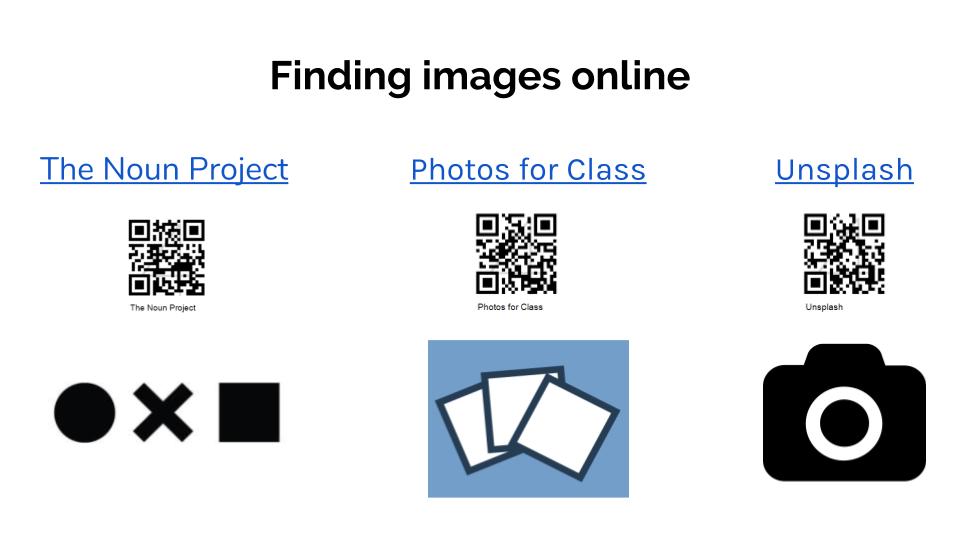 There are lots of websites for finding images online. Here are three of my favourite for use with students, and in your own work.
Photos for Class  – this is my favourite site, especially for use with children in lower elementary school. The images are safe for school use, and the citation is embedded in the image. You can even embed Photos for Class right into your class website so that it's easy for your students to find and use.
 

Unsplash

– this website exists through the generosity of creators, who allow their images to be used completely free. Citations are appreciated but not required. There are some photos that may be racy for younger children, but a quick search with some key words did not reveal any pornography.

The Noun Project

 – this site has images for every noun, which is especially useful for teachers. An account is required, as are citations.
Classroom Use
These sites are appropriate for all grade levels. Share it with students by e-mail, through posters or on a class website.
For the elementary classroom, I suggest that you download the poster and put it in your classroom. Students can scan the QR code to quickly access any of the websites without having to type in the address. You can also take the opportunity to teach children to bookmark the websites. If you have iOS 11, you can scan the QR code with the built-in camera app. On Android, Google Goggles reads QR codes. Otherwise, download i-Nigma or another QR code reader. The app works on iOS, Android, Blackberry or Windows mobile devices