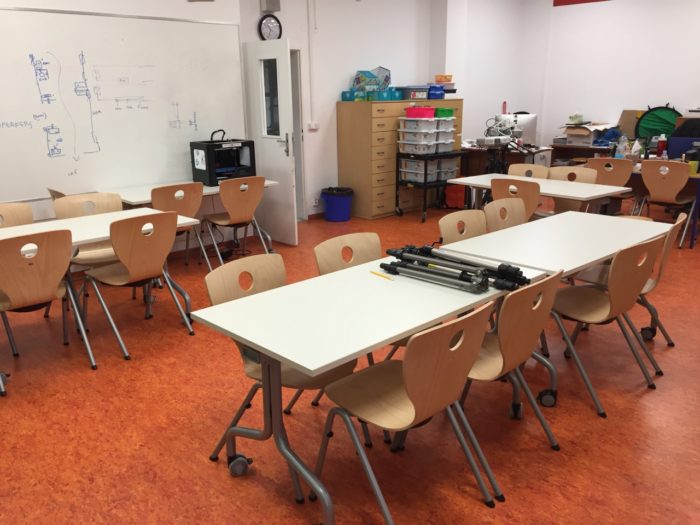 When I started working at ISP in August 2013, my office was in a small room in the elementary school, between the PK3 classroom and the elementary staff room. I shared the room with a library assistant/teacher assistant and a lot of books as it was the elementary school book room. It felt like we were in the basement because we had one tiny window that reminded me of a basement window. Our door led into the hallway, right opposite a door to the inner courtyard, which helped us remember that we were not in a basement, even though it felt that way.
As part of a school and department wide reorganization, I was moved to a different space. All three of the IT coaches now work in the same space. Our office is part classroom/part office, and called the Idea Lab.
As the elementary coach most responsible for elementary school, I generally attend meetings and support classrooms throughout the elementary school. I am usually welcomed into other people's spaces. When I'm in my office, I'm usually doing desk work, which includes e-mail, blogging, working on presentations, preparing resources for teachers and classrooms, testing resources, conducting research, etc.
My desk is at the back of the Idea Lab. The other two coaches and I have our desks all lined up to optimize our limited space. Most of the room contains moveable desks and chairs. The tables flip up, and the chairs stack, for added flexibility. A green screen is mounted at the front of the room. Along the sides, we've set up a laser printer, a laser cutter, and other maker space resources. The room is scheduled for classes taught by my colleagues, and available to be booked by other teaches. Sometimes, elementary classes come to the Idea Lab to work on creative projects, or middle and high school students come to work in a quiet space, or to use the resources available.
The worst part of my office is that it's far from elmentary school. Since I moved, I have fewer spontaneous visits by teachers, and more email requests for help. I am often stopped when I walk around the elementary school, even if I have not received an email request for help.
The best part of my office is the proximity to my colleagues. This new office arrangement with all three coaches in the same place makes it easier to collaborate. We can help each other, share ideas, and plan events more easily than before. Often one of us is here to help colleagues even if the IT coach for that section is busy elsewhere. One of our collaborations is in designing the space. We identified the need for personal storage space, storage for consumables and tools, and storage for work in progress. We also determined the importance of flexibility in the space so that it could be use in many different ways. This room is still taking shape. One of our challenges is organizing all our resources, especially the robotics kits. We're going to continue organizing the place over time to meet our needs, and the needs of each of the three sections of the school.